Frequently Asked Questions
When will I receive my order?
All orders placed before 6pm should arrive with you within 2-3 or 3-5 working days, depending on your shipping choice. 
Will it fit through my letterbox?
Our products are designed to fit through the average sized letterbox!  If you order two or more boxes at once they will be stacked into a larger parcel for delivery, so why not order a 'combo box' instead?!  You will get a small discount AND still be letterbox friendly!
What can I do if my address is incorrect?
Please take care when entering your delivery details.  If your order has not yet been dispatched, contact us ASAP on our contact form and we may be able to rectify the error.  If your order does not arrive due to the shipping address being entered incorrectly, we cannot replace or refund your order.
What are your delivery options?
We deliver all over the UK via Royal Mail and occasionally by courier for larger items. We do not currently deliver overseas.
Standard delivery (3-5 working days) is £3.99 and upgraded delivery (2-3 working days) is £5.99. 
We cannot take pre-orders or offer named day delivery as our products are made fresh daily and we have a maximum capacity.  We also don't have the facilities or space for a click & collect option at the moment!
Can I place one order to go to multiple addresses?
Unfortunately, this is not possible at the moment.  We keep our prices really fair and don't over-charge for delivery, so for each delivery address, you must place a new order.  
If you're placing an order for anything over 10 boxes, please contact us via the contact form and we can arrange to process this manually for you.
How long do they last?
Our cakes will stay fresh for about 2 weeks from dispatch if they are wrapped up well.
Is your packaging environmentally friendly?
We work very hard to make our packaging as environmentally friendly as possible.  We only film-wrap products where necessary and most orders are wrapped in our biodegradable greaseproof paper and our kraft boxes which are also recyclable.  Our new custom mailing bags are not only show-stoppingly pink, but they're also fully recyclable and can go in your normal recycling bin!  We are always striving to improve this and welcome any suggestions.
How big are your brownie/boxes?
All our brownies are 'full-sized' (about 4cm x 10cm) rather than 'bite-sized' unless clearly stated in the description.
6 brownies/3 cookies box dimensions: 3.3cm x 12cm x 28cm
12 brownies/6 cookies box dimensions: 3.3cm x 12cm x 54cm.
I've received some lovely treats, but who from?
Make sure you've fully opened the box as there's probably a message stuck inside in the lid of the box!  If you still have no luck, please get in touch with us via the contact form and we will get in touch with the sender for you.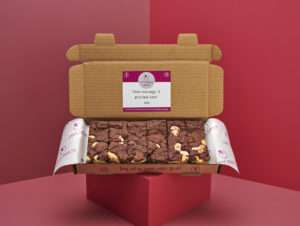 Can I swap flavours?
In order to keep up with current demand, we're unfortunately unable to swap flavours.  There's lots of delicious mixes to choose from, and a 'combo box' which allows you to combine two mixes into one big box!
My order is wrong or I'm unhappy with it, can you help?
In the unlikely event that your order has been packed incorrectly or is not up to standard, fill in our contact form and we will get back to you ASAP!  Usually, you will hear back from us within 24hrs but it may be longer over the weekend or busy periods.  Please ensure you take a clear photo including all the brownies/bakes and the whole box! 
Please note; everything is made, packed and shipped by hand by a very small team – we are all human and mistakes can happen!
How should I store them?
Store refrigerated but eat at room temperature and ensure to keep them airtight.  If you're not going to be eating them in the first few days, we recommend popping them in the freezer to keep them as fresh as possible!
What's in my box?
You should receive a menu card with all the delicious flavours, the ingredients and allergens!  If this is missing from your box, send us a picture and we can let you know!
Do you include a receipt/paperwork in the box?
No!  Most of our customers order our brownies as a gift, therefore, we never include paperwork in the box!  We also take care not to print anything unnecessarily! You will receive all of the paperwork by email!
Corporate orders, Weddings & Events
Can I make a large corporate order?
Yes!  We can personalise the boxes with messages and your logo.  Please see our corporate gifts page for information, photos and prices, we can accommodate orders from 10 boxes to 4000 or more! 
Weddings & Events
Please contact us via our contact form and let us know what you're looking for.  We would love to help if we can!!
Do you do gluten-free brownies and cakes?
YES! ALL of our brownies and cakes are actually gluten-free and you wouldn't be able to tell! We have a fully gluten-free facility, so everything is made in a gluten-free environment – we chose to do this because it means we can be confident there's no cross-contamination. 
Just to be sure, we have had products lab tested and they came back with no traces of gluten.
Do you make dairy-free or vegan brownies?
YES! We have an amazing vegan selection, we're so proud of it!  It's not often that you find a vegan and gluten-free range that isn't made out of blended dates and nuts, but you won't find that here!
What ingredients do you use?
We only use the best quality ingredients, including local free-range eggs, proper Belgian chocolate, real butter, and the one that everyone is surprised to hear – East Anglian Pea flour!  In our vegan range, we use a lovely couverture free-from chocolate.
What allergens are in my brownies?
We handle the following allergens on site at the bakery:
MILK, EGG, SOYA, NUTS, PEANUTS
You will receive a full list of allergens and ingredients with your box, alternatively, take a look at the allergens page!
Are any of your products Halal?
Unfortunately, the majority of our products contain flavourings that are alcohol-based, therefore, are not Halal.
When will my subscription box be sent?
If your first box is ordered on the 12th of one month, for example, the renewal order will go through on the 12th of the next month.
How are payments taken?
When you sign up, the payment is taken for the first month, and then you will be billed automatically to the same card/PayPal account for your renewal order the next month.  There is no option to pay up front.
Do the subscriptions automatically end?
If you sign up for a 3- or 6-month subscription, payments will stop after this time automatically.  However, if you sign up for a monthly specials subscription, you will need to cancel this yourself or get in touch with us.
What happens if my subscription renews whilst you are closed for Christmas?
If your subscription renewal comes through during our Christmas closing time, we will send it out at the beginning of January – don't worry, you will still get to try the Christmas flavours!
Can I use a gift card on a subscription?
You can redeem a voucher against the first subscription payment, but subsequent subscription payments will be debited from your bank card, even if there is a remaining balance on your gift card.  We recommend using gift cards for one-off purchases instead.