pick both products below to save!
Get ready to try your new favourite!  An amazing box of all-butter cookies, stuffed with different fillings; milk chocolate and Nutella, gooey caramel and fudge and last but not least white chocolate and kinderella! These have been so popular in our local shop, we just had to bring them to our loyal online customers too!  We hope you love them as much as we do! You wouldn't know they were gluten-free...they are the most indulgent gluten-free cookies you will find! 
We send them to you only just baked, so we recommend popping them back in the oven for 10 minutes at about 180 degrees to finish them off and get oven-fresh cookies!
Customise with a message if you're sending these as a gift…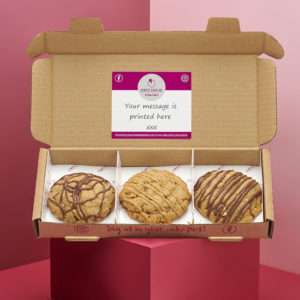 Stuffed Cookie Selection! - 3 cookies
Every month we come up with something amazing for our 'Monthly Special flavours'. 
We're flying into the New Year with these cosmic specials (2 of each flavour!):
Galaxy Brownie

-  Find our classic gooey brownie packed with all different galaxy chocolates!

Space Shortbread

- all butter shortbread with a thick layer of salted caramel, topped with dark chocolate, finished with pink and blue swirls

Stellar Rocky Road - Milk chocolate rocky road with lots of chocolate, crunchy biscuit, sparkly mallows and magic stars
Customise with a printed message if you're sending these as a gift…
*NO PRE-ORDERS*
January Specials! - 6 piece
Step 1: Select your products 
you will save 10% (deducted at checkout)
Step 2: Personalise with a message!