For delivery to the rest of the UK please see our main online shop.  The local delivery service is for King's Lynn & surrounding areas only.
What is the local delivery service?
This is a free delivery service for local customers only!  If you are outside the delivery areas or would like your delivery on a different day, please order from the online shop instead!
This is arranged by Sarah who you will probably recognise from local events and farmers markets!
When/where do you deliver?
We've increased the areas due to popular demand!
   Every Thursday 10am-5pm and Friday 10am-2pm in the following areas –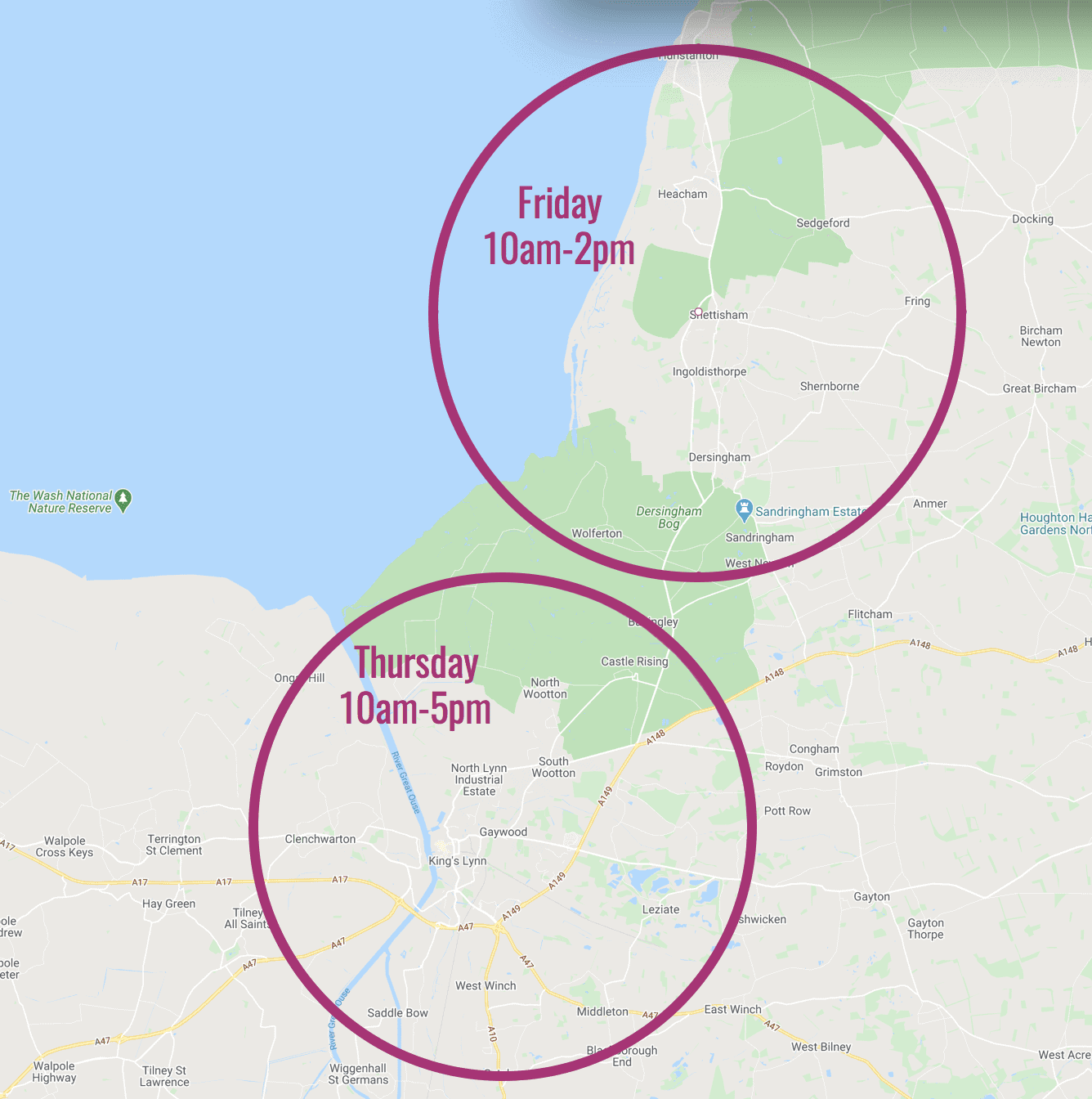 Price and Menu 
MINIMUM ORDER VALUE £12.50
6 slice = £12.80    |    12 slice = £23.50    |    3 cookies = £6.80    |    6 cookies = £12.50
Please note: delivery will be free of charge
BROWNIES
TRIPLE CHOCOLATE CHUNK
SALTED CARAMEL
CHOCOLATE ORANGE
SNICKER-STYLE
PEANUT BUTTER (VEGAN)
RASPBERRY (VEGAN)

BLONDIES
TRIPLE CHOCOLATE CHUNK
RASPBERRY
OTHER
MILLIONAIRE'S SHORTBREAD
ROCKY ROAD
MONTHLY SPECIALS*
MIX A MUG (BOX OF 4 – £12)
COOKIES
SET MIX OF 3 FLAVOURS (2 OF EACH WHEN ORDERING BOX OF 6):
CHOC CHUNK, RASPBERRY & WHITE CHOC, CUTIE
*(specials will change each week, please enquire when ordering!)
How to order:
1) E-mail Sarah on simplycakeco@gmail.com with the following details:
   – Name & contact number
   – Your delivery address
   – Your order (chosen flavours & quantities)
2) Make sure to order by 10pm Tuesday
3) Sarah will confirm your order and send a card payment link via text
That's it!